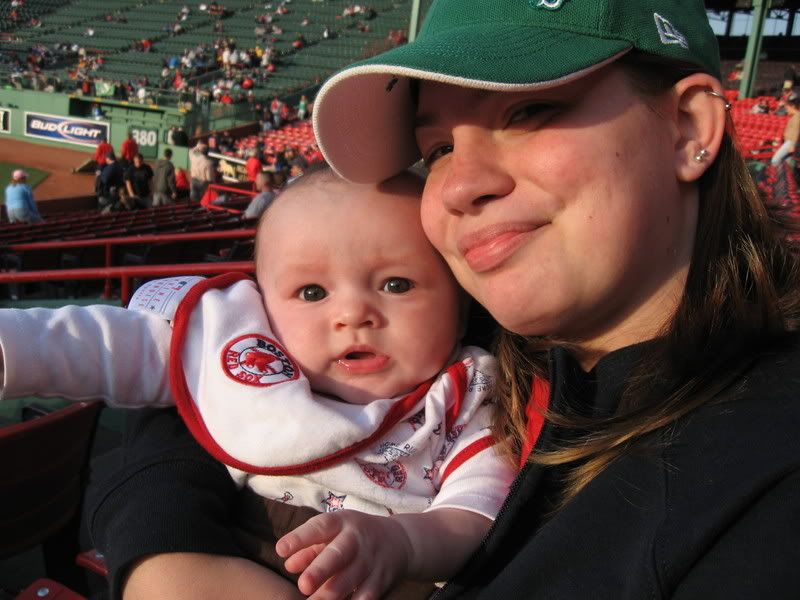 Let's start with Danielle. I am a 23 year old, married mother of one (Mr. Camden) also a Birth and Postpartum Doula, Birth Advocate and aspiring Midwife (some day right? LOL) I also am a SAHM to Camden, and the Chapter Leader/founder of the International Cesarean Awareness Network of Connecticut. I parent in my own crunchy type way, but can cut corners when I want. No one is perfect right?
There are many things in life I feel passionately about, and I tend to be obnoxious and outspoke often, but it is all in good fun. I am a huge Boston Red Sox fan, I enjoy nascar, and I love the New England Patriots. I
don't want to hear anything about Spy gate thanks.
In high school I met this "bad boy" who nearly 9 years later is now my husband and the father of my beautiful baby boy. Which brings me to my next introduction.
My wonderful husband Will. He is a Marine (once a Marine always a Marine right?) a hard working father who busts his butt to support myself and our son, so that I am able to be a SAHM to Camden. He is the most amazing father, and husband. I could never imagine a better one. I can say he totally gets a big fat A +.
He is also a huge Boston Red Sox fan, New England Patriots DIE HARD fan, and a nascar fanatic. The Patriots and Nascar is him rubbing off on me, and the Red Sox is me rubbing off on him! Which brings me to another introduction. By far the cutest one of the family if I do say so myself.
Camden Kent
Born on December 11th 2007, 7lbs 7oz at 4:37pm.
Born via c-section, he single handedly started ICAN of Connecticut. One day he will really know the big difference his birth made for women all over the state. He is the most amazing little boy. So far we have 2 teeth, we roll over, eat food, crawl, say Mamamamama, and is just the most amazing human life. He has brought so much joy to myself and his father and some day, when he is older and can really understand, he will see how much he means to the two of us. I could go on and on about him for hours, because that is what mothers do, but I will cut it a little short so that I can finish introducing the rest of our family.